This page will show you how to setup a new campaign in the Leadbolt Advertiser Portal.
To get started make sure you sign up to a Leadbolt Advertiser account here or login to the Advertiser Portal here.
Read through the steps below or watch this video. When you are ready, choose from the Next Steps options at the bottom of this page.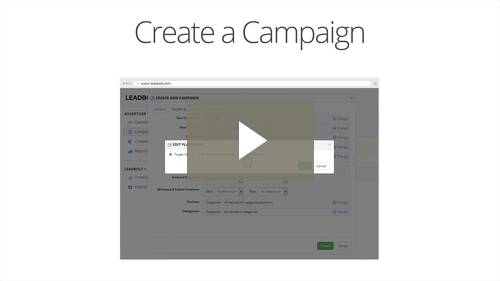 1. Create a campaign
Fill in the required information on the campaign general tab.
At a minimum you will need to provide these campaign details:

Offer Type: Choose the type that most matches your campaign, eg: app store is a 'download offer'.
Campaign Name: This name is used to identify your campaign within the advertiser portal.
Display Name: This name is displayed when the campaign is visible to publishers.
Landing URL: Destination URL on click, usually an app store or tracking URL.
Campaign Spend: The amount you are charged for each user action or display of your ad.
Copyright: Standard confirmation that you are the owner of and / or licensed holders to run the content for this campaign.
Before you click create, you should configure the targeting options for your campaign. These are described in the next step.
---
2. Configure campaign targeting
Click the "Targeting" tab to set the campaign targeting options.
Select the specific geo country and platform you wish to target. Set any additional targeting options or leave these as default.

Once you finish configuring your targeting options, hit the "Create" button.
Congratulations! Your first campaign has been setup.
---
Next steps: Adding ads to your campaign
Now that your campaign has been setup, it's time to add your ads. Click below to learn how.